« Rebuilding the Wiring Harness | Main | Rear quarter panel installation »
October 01, 2005
October 2005: sheet-metal work resumes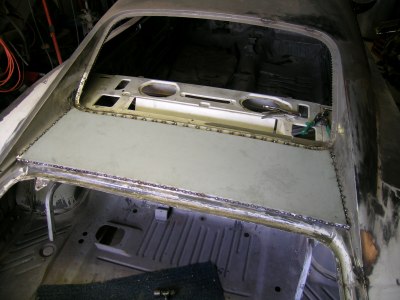 With all the metal prep work done, and the new piece formed and fitted, it was finally time to weld in the piece that would complete the rear-window opening and cover the expanse between the window and the trunk. To get this right, we temporarily reinstalled the deck lid, in order to match the slight crown the original piece had. Carefully tacked in place so as to avoid warping, the piece looked great when it was finally pinned down.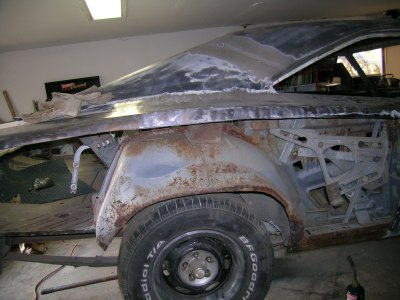 Even though I've been looking forward to this moment for years, I had to swallow hard, grit my teeth, and just go with it when my buddy put his cutoff wheel into the quarter panel. The passenger side had more extensive rust and much more previous body damage (hidden by up to half an inch of filler), so it was decided that full replacement was best.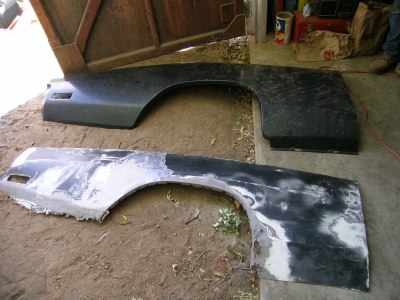 Out with the old, in with the new, so they say. Here's the veteran quarter panel lying next to its replacement.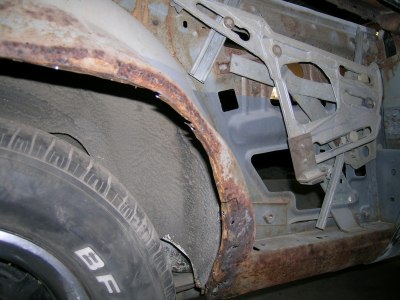 One more reason we totally removed the passenger-side quarter panel was to get at the inner fender rust on the forward edge of this piece. Only total replacement of all defective material will be good enough to achieve the results we are hoping for.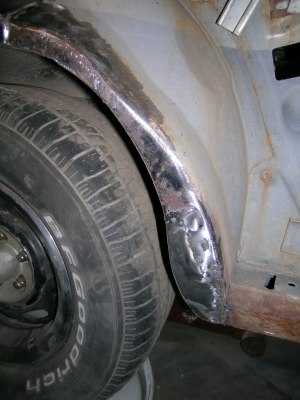 My buddy, the metal wizard, never ceases to amaze me. This was a case in point. He used some of the complex compound curvature left over from the sail panel repair pieces to fabricate an identical steel replacement section for the rusted area in the previous picture. Once welded in and ground off smooth, it was truly amazing how well he had matched the original shape.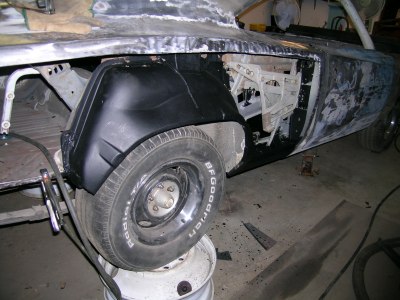 To help prevent any future problems, the inner fender, inner rocker panel, and several other areas which are impossible to access under ordinary circumstances, were given a generous coating of the same rust encapsulator used on the floor.
--------
Posted in 2004-present | RESTORATION | body | rust & rust repair | sheet-metal replacement
Comments
Post a comment