May 10, 1987
May 1987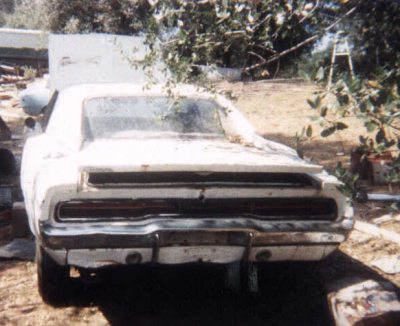 My Charger seen from the rear, May 1987
The tail lights and front parking lights were pretty much the only unsmashed lenses on the entire car when I got it.
--------
Posted in 1986-1987 | BEFORE RESTORATION | link to this page | | Comments (0)
May 01, 1987
May 1987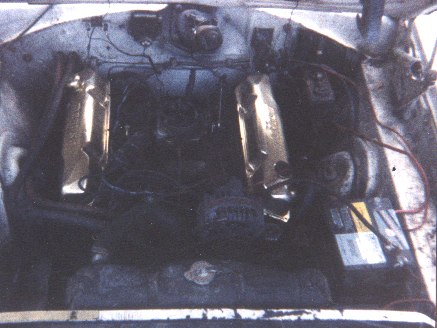 Here is the '65 383 2bbl taken from my first car (a '65 Polara 4dr). The gold anodized Moroso valve covers were not bolted on yet, but had to be in the picture. They were in the trunk of the car when I got it and I was so proud to have such a "high-performance" look. My fellow MoPar enthusiasts will no doubt see that the alternator was in the wrong place. This was resolved once I got the correct brackets.
Posted in 1986-1987 | BEFORE RESTORATION | link to this page | | Comments (0)
April 01, 1987
Still April 1987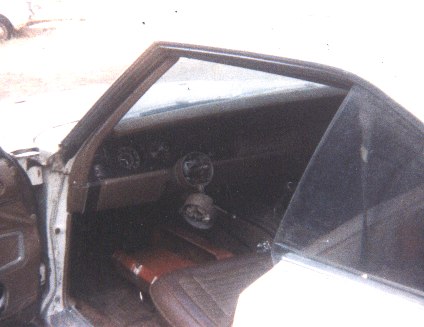 While the whole car was in bad shape, it was the interior that had been vandalized which posed some of my most significant challenges early on. Barely visible here is my attempt to install a Ford speedometer to replace the original, which had been destroyed by vandals prior to my owning it.
Posted in 1986-1987 | BEFORE RESTORATION | link to this page | | Comments (0)
April 1987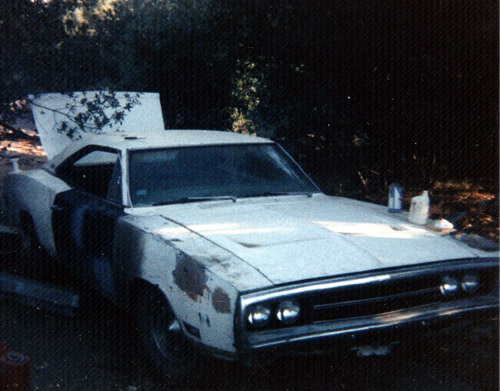 This is the earliest picture I have of my Charger. A friend and I had just finished working on the passenger door and fender in auto shop in my senior year in high school, and I put them back on the car for this photo. Much work remained before I would drive the car.

Posted in 1986-1987 | BEFORE RESTORATION | link to this page | | Comments (0)
April 20, 1986
My Charger's History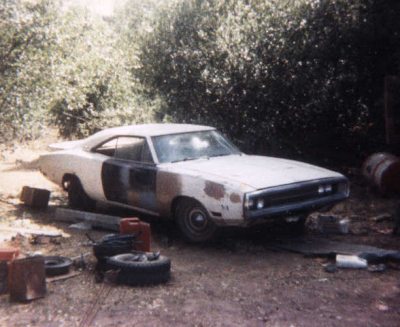 I bought my 1970 Dodge Charger 500 in April 1986. According to the VIN and broadcast sheet, it was originally a 318 2bbl, console shift automatic and non air-conditioned. The car was white with a white vinyl top and a tan interior with buckets.
The story of how I got the car is rather amazing. A friend at school had gotten the car from his uncle. It had been sitting in a field near Sacramento, CA with the doors and front sheet metal removed for some time. Cats had lived in it, and mice too. Every body panel had at least some damage, and some was severe. The interior had been vandalized by someone with a fondness for orange spray paint. Each instrument gauge had its face painted orange and its needle broken off (the plastic lenses were broken too). The car had a non-running 383 2bbl, a 727 transmission, a 7 1/4" rear end, no drive-line, an extra set of doors, and miscellaneous parts in the trunk.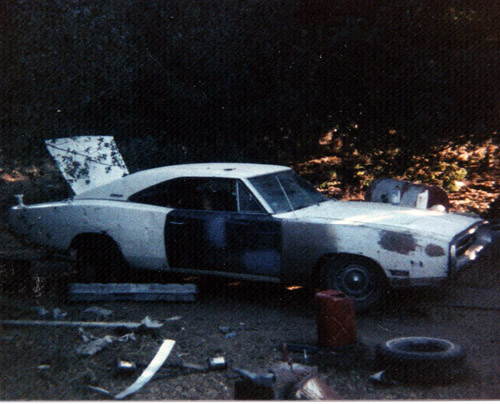 My friend who owned it brought it into our auto shop at school. It was the worst-looking piece of metal there back then! My friend realized he was in over his head, and besides, he was a GM guy and had little interest in MoPars.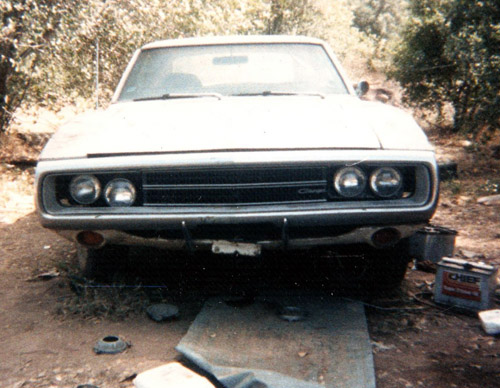 He began pestering me about buying his "Dodge parts". I was driving a '65 Dodge Polara 4dr police car (my first car). He kept telling me that I could use the engine for a spare for my 383 in the Polara. I was usually broke, figured he wanted too much money, and had nowhere to store it, so I ignored him. Then one day he said, "Hey Tolley, I want to take my girlfriend to the dance, I need you to buy my Dodge parts!" I asked him, "John, just how much do you want for that thing anyway?" His reply was, "Just ten bucks or so, man!" The next day I spent the best two five-dollar bills of my life and bought his "parts". He wrote me a bill of sale on a scrap of paper (I think I still have it). At first, my plan was to use it for parts and sell what I didn't need.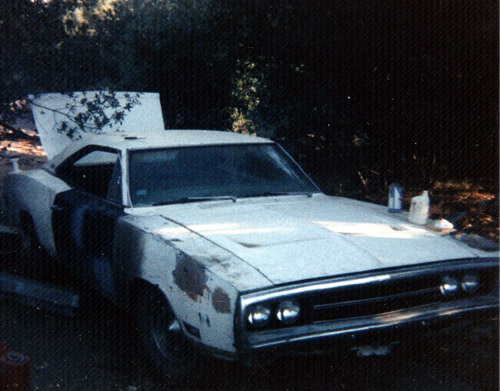 Then I started to investigate what this car was. I found pictures of what it looked like all assembled, did some reading, and discovered -- "Hey! This is a muscle car! – a very cool muscle car to boot!" I decided then and there that my Polara could become parts for my Charger. This was near the end of my junior year in high school. Early on in my senior year, following the guidance of my auto shop teacher Mr. Johnson, I established the goal of driving the Charger by the time I graduated in June. He told me I should fix up my Charger because it would be more valuable fixed up, and as an added bonus, I'd know everything about the car by the time I was done. I had no idea back then how right he would be. Back then he was the ONLY "grown-up" who thought fixing my Charger was a good idea. Many times I have wished I could thank my High School auto shop teacher!
So the Polara gave up its engine, radiator, driveline, wheels, etc. My auto-shop buddies and I tag-teamed to cover over the worst of the body damage. Working mostly alone, though, I spent many, many hours working on my car over the next several months (when most of the guys were at our senior prom, I was putting the driveline in and bolting on the exhaust manifolds and cutoff pipes; as a result of this I've always joked that my Charger was my prom date). I did manage to drive the Charger the day before I graduated. It was 5 or more different colors, had a mixture of tire sizes and types (but I was SO proud to have raised-white-letter tires on the back!), a broken windshield, no license plates, and no mufflers. Most people laughed or thought I was wasting my time. Several people offered me cars that would have been easier to fix up. "But it's not a Charger!" I would exclaim.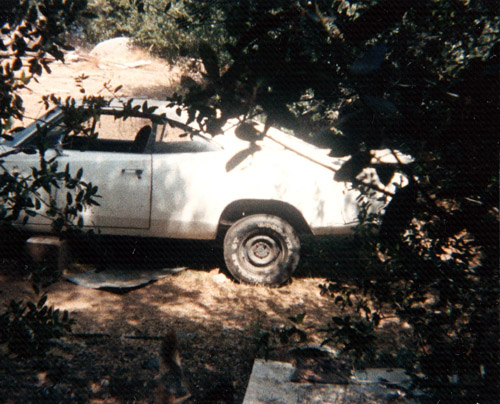 After graduation we trailered the Charger to my Dad's house. The Monday after I graduated I started work at a tire shop. My boss, who lived across the street, knew just what I needed to fuel my motivation on the Charger – tires and wheels. He hooked me up with a set of clean but used Keystone Klassics, and decent radials, all for $100 to be taken out of my first paycheck. When I was installing the wheels, people in the neighborhood laughed and told me the wheels were worth more than the car and I was wasting my time. I would not listen. Next my buddy and I primered the body flat black to look "cool" and hide dents. A '74 440 later took the place of the 383, and the car quickly became a notorious thrasher of the GM and Blue ovals owned by the guys I ran with back then. The guy who sold it to me has never stopped kicking himself.
It has been many years since anybody laughed at my car, or questioned the value of working on it. I drove my Charger everywhere I went from 1987 until about 1996, when I decided to take it off the road and wait for an opportunity to begin restoring the car. In the spring of 2004 the pieces fell into place and I was able to begin the long-awaited restoration process. In my years of enjoying, driving, and working on my Charger, I have come to really appreciate exactly why Mopar muscle cars, and Chargers in particular, mean so much to so many people. One day soon when it has been fully restored I hope to revisit some of the old neighborhoods and show some of those naysayers what someone with passion and a vision can accomplish through hard work, patience, dedication and a lot of grace and wisdom from God!
You can follow my restoration progress here. There are more pictures and details about my car before I began restoring it here.
Posted in 1986-1987 | BEFORE RESTORATION | link to this page | | Comments (14)