« LINKS: Mopar special interest sites | Main | April 1987 »
April 20, 1986
My Charger's History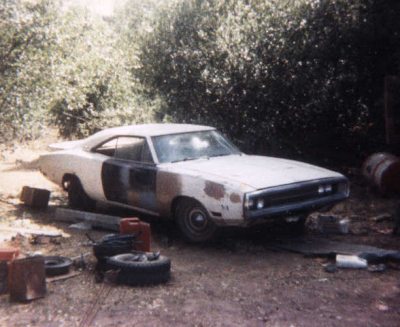 I bought my 1970 Dodge Charger 500 in April 1986. According to the VIN and broadcast sheet, it was originally a 318 2bbl, console shift automatic and non air-conditioned. The car was white with a white vinyl top and a tan interior with buckets.
The story of how I got the car is rather amazing. A friend at school had gotten the car from his uncle. It had been sitting in a field near Sacramento, CA with the doors and front sheet metal removed for some time. Cats had lived in it, and mice too. Every body panel had at least some damage, and some was severe. The interior had been vandalized by someone with a fondness for orange spray paint. Each instrument gauge had its face painted orange and its needle broken off (the plastic lenses were broken too). The car had a non-running 383 2bbl, a 727 transmission, a 7 1/4" rear end, no drive-line, an extra set of doors, and miscellaneous parts in the trunk.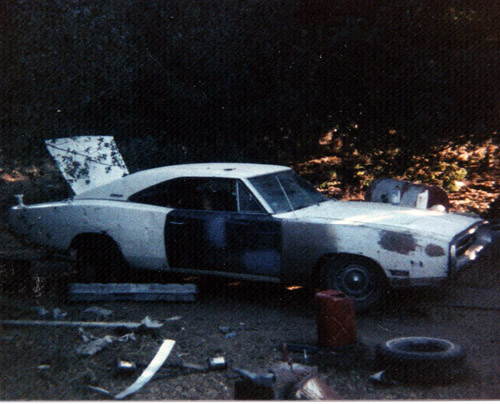 My friend who owned it brought it into our auto shop at school. It was the worst-looking piece of metal there back then! My friend realized he was in over his head, and besides, he was a GM guy and had little interest in MoPars.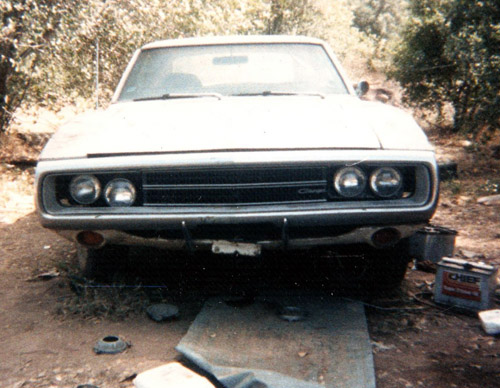 He began pestering me about buying his "Dodge parts". I was driving a '65 Dodge Polara 4dr police car (my first car). He kept telling me that I could use the engine for a spare for my 383 in the Polara. I was usually broke, figured he wanted too much money, and had nowhere to store it, so I ignored him. Then one day he said, "Hey Tolley, I want to take my girlfriend to the dance, I need you to buy my Dodge parts!" I asked him, "John, just how much do you want for that thing anyway?" His reply was, "Just ten bucks or so, man!" The next day I spent the best two five-dollar bills of my life and bought his "parts". He wrote me a bill of sale on a scrap of paper (I think I still have it). At first, my plan was to use it for parts and sell what I didn't need.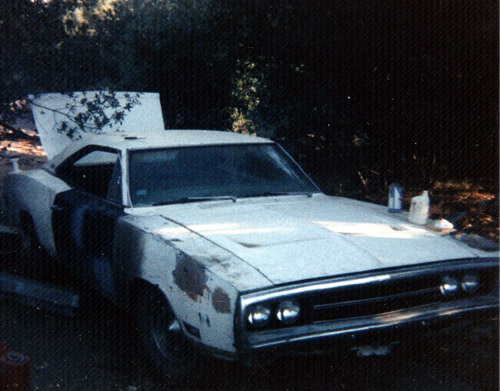 Then I started to investigate what this car was. I found pictures of what it looked like all assembled, did some reading, and discovered -- "Hey! This is a muscle car! – a very cool muscle car to boot!" I decided then and there that my Polara could become parts for my Charger. This was near the end of my junior year in high school. Early on in my senior year, following the guidance of my auto shop teacher Mr. Johnson, I established the goal of driving the Charger by the time I graduated in June. He told me I should fix up my Charger because it would be more valuable fixed up, and as an added bonus, I'd know everything about the car by the time I was done. I had no idea back then how right he would be. Back then he was the ONLY "grown-up" who thought fixing my Charger was a good idea. Many times I have wished I could thank my High School auto shop teacher!
So the Polara gave up its engine, radiator, driveline, wheels, etc. My auto-shop buddies and I tag-teamed to cover over the worst of the body damage. Working mostly alone, though, I spent many, many hours working on my car over the next several months (when most of the guys were at our senior prom, I was putting the driveline in and bolting on the exhaust manifolds and cutoff pipes; as a result of this I've always joked that my Charger was my prom date). I did manage to drive the Charger the day before I graduated. It was 5 or more different colors, had a mixture of tire sizes and types (but I was SO proud to have raised-white-letter tires on the back!), a broken windshield, no license plates, and no mufflers. Most people laughed or thought I was wasting my time. Several people offered me cars that would have been easier to fix up. "But it's not a Charger!" I would exclaim.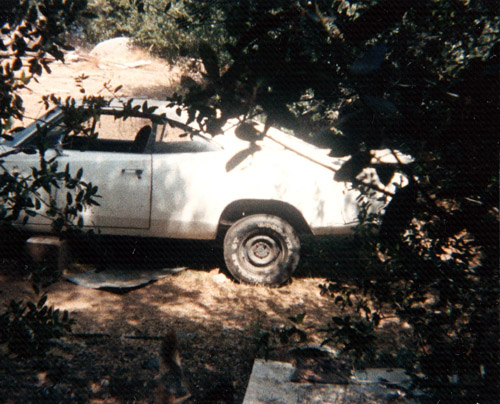 After graduation we trailered the Charger to my Dad's house. The Monday after I graduated I started work at a tire shop. My boss, who lived across the street, knew just what I needed to fuel my motivation on the Charger – tires and wheels. He hooked me up with a set of clean but used Keystone Klassics, and decent radials, all for $100 to be taken out of my first paycheck. When I was installing the wheels, people in the neighborhood laughed and told me the wheels were worth more than the car and I was wasting my time. I would not listen. Next my buddy and I primered the body flat black to look "cool" and hide dents. A '74 440 later took the place of the 383, and the car quickly became a notorious thrasher of the GM and Blue ovals owned by the guys I ran with back then. The guy who sold it to me has never stopped kicking himself.
It has been many years since anybody laughed at my car, or questioned the value of working on it. I drove my Charger everywhere I went from 1987 until about 1996, when I decided to take it off the road and wait for an opportunity to begin restoring the car. In the spring of 2004 the pieces fell into place and I was able to begin the long-awaited restoration process. In my years of enjoying, driving, and working on my Charger, I have come to really appreciate exactly why Mopar muscle cars, and Chargers in particular, mean so much to so many people. One day soon when it has been fully restored I hope to revisit some of the old neighborhoods and show some of those naysayers what someone with passion and a vision can accomplish through hard work, patience, dedication and a lot of grace and wisdom from God!
You can follow my restoration progress here. There are more pictures and details about my car before I began restoring it here.
Posted in 1986-1987 | BEFORE RESTORATION
Comments
hi, thanks for posting your project...
i am also working on a 1970 charger500 and have been impress with your expertise and using your site as a reference to working on my project..
keep up the good work, it good to see regular guys still working on and restoring old cars.
good luck...
Dave..
Posted by: Dave Brown at March 7, 2007 01:32 PM
I love the Lego Charger man. That really sucks that people were smashing your ride. Some people just have no respect for muscle cars. I bet they will all feel like fools when you finally get your Charger done. Best of Luck.
Posted by: Will at December 1, 2007 09:18 PM
What a nice find on the web. I am currently cutting my 70' Charger 500 apart in order to sandblast. It seems that I will be doing the same as you. I will keep on checking up on this site to help with ideas.
Thanks
Trevor
Posted by: trevor at January 12, 2008 09:48 AM
hey, im a 16 year old girl who LOVES the 1970 charger and im trying my hardest to save up for one but im not getting very far, i wish i found a $5 deal like yours. But im not going to give up one day im goning to get my Charger and prove all those people wrong who said i would never get one.
good luck with the restoration of your magnificent car...
Raewyn...
Posted by: Raewyn Longstaff at April 12, 2008 12:20 AM
hey my name is chris i like the car i was just wondering did u do the body? if so were did u order the parts from because im about 2 maybe get a 1970 dodge charger my self i dont know the shape its in but i will soon so if u can help me out that would be great my e-mail is murray_925@hotmail.com
Posted by: chris at April 22, 2008 10:24 PM
What a great story, when is the next update?
I've done the Charger rebuild in Australia on my 1972 VH Charger, owned since 92 and still got it!
Keep us posted,

Posted by: Hemi at April 26, 2008 01:56 AM
hi my name is mike i'm deaf so i can't speak or hear and i just wanted to let you know that im really interested in your charger and i wanted to know how much you are selling it for. :-))
Posted by: Mike Z EL-Sardouk at April 28, 2008 06:33 PM
i like the car AMERICAN MUSCLE !
Posted by: jc at August 15, 2008 05:37 PM
Hey Tolley, great site you put up. I just bumped into it today looking for some Charger 500 emblems. I too, am building a 70' 500. Mine has been parked in the desert for 22 years. It's bone stock and totally complete down to the hubcaps and 383 pie tin. I acquired mine in Jan. 08' and just started on it a month or so ago. I can really relate to your sand blasting efforts, cause that is where I am at right now. Trying to get her cleaned up piece by piece after sitting for so long is quite a task. I've worked on and raced Dodge's the past 15 years or so and the motors and chassis's are keep clean enough to serve lunch on!! Any way I'm not much of a blogger, but I had to take a minute and compliment you on your hot rod in the works and interesting site. Your attention to detail is admirable and I hope we are all able to continue viewing your progress. Best Wishes and keep up the good work..
Posted by: Johnny G. at November 12, 2008 02:27 PM
hey
mike here in san diego working on a 1969 roadrunner 383, im so glad my roadurnner dosent have those quarter panel lines that run in the middle becuase they would drive me crazy. nice job on the body work, i found your wbsite looking on the internet to get some insipration to get back to bondo sanding. i too have a polara 4dr 383 2bl.
nice work, later
Posted by: mike at March 27, 2009 07:21 PM
Cool Charger, I have a 1969 r/t 440. I have replaced the Tail light panel, rear vallance, End caps, quarter skins, rear crossmember, trunk floors and extentions, Fenders, as well as fixed the front floor and Quarter houses. I want to get new doors and hood as well. hopefully I will Catch up with you soon.
Posted by: Drew at January 3, 2010 05:17 PM
i was wondering where i could buy a cheap and damaged dodge charger 500
Posted by: tom at February 12, 2010 02:19 PM
Tolley,
I just had to say that I remember when you got this car and the progress you have made with it is stunning!! Great job cousin.
Posted by: Niki Gorham (Monique Gollihar) at May 24, 2011 07:51 PM
Hi Tolley, It's great to see documentation like this. Good Job! I have a 1970 Dodge Charger as well. I acquired my car for $500 around the same time you got yours, I drove it for a short time when I was a senior in high school, matter of fact it still has the 1987 tags on it. I had no resources back then and when the engine blew up and unfortunately I left it sitting for about 20 years. I have had many people try to buy it and several tell me to get rid of it but I wouldn't budge telling them that I will either restore it or it will rot into the ground. Well I moved into a house where I have my first garage in 2007 and it has taken me this long to get the garage into a condition that I can tear my car down. I have waited a long time and am excited that I am finally getting close to getting started. The Charger is my favorite muscle car and I have been visiting your site on and off for some time. The information you have documented is not only a terrific story but an inspiration and an awesome resource. I will be doing full documentation on mine as well.
Thanks, Glenn
Posted by: Glenn at September 19, 2011 11:29 AM
Post a comment