« CH4B Intake manifold | Main | Brake booster and Steering wheel »
December 14, 2012
The last glass - Windshield installation
Well, once my electrical systems check was completed successfully I started planning to get my windshield installed.
I arranged to once again have a local businessman, George Sgambellone, owner and operator of Mariposa Auto Trim, about installing my windshield (he came to my house and installed my vinyl top and let me help and learn). He was willing to come to my house and put the windshield in, showing me step-by-step how he was doing everything. The job went very smoothly, took an hour, maybe less, and once again, his rates were EXTREMELY reasonable. I have again decided to place an image of his business card here at the end of this post in case any people in my area need this sort of work done. I highly recommend George.
Here are a progression of pictures from the windshield installation. The first image shows George and myself working together putting the gasket in , then the progress forward.
Yay! The glass is complete -The car wlll be much easier to keep clean inside now!
I have begun the process of cleaning and straightening the stainless steel windshield moldings and hope to finish polishing them and get them installed over the next week.
Here is a well deserved plug for George and Mariposa Auto Trim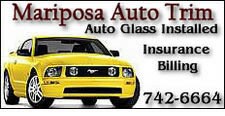 Posted in 2004-present | Family Helpers | RESTORATION | Reassembly | body | glass | trim
Comments
Post a comment