« The last glass - Windshield installation | Main | Engine progress ahead! »
December 19, 2012
Brake booster and Steering wheel
Some more progress while I wait for the rest of my engine money...
I got one of my Bendix boosters rebuilt by Booster Dewey In Portland Oregon, it arrived in great shape yesterday...
I got it installed today... Should be bleeding it soon, and begin tidying up the engine bay.
As much as I was stoked to have an original steering wheel that was in such perfect shape for my Charger, it turns out it wasn't for my Charger! (It will however be a beautiful addition to my son's '67 Satellite) So I ordered a new reproduction one from PG Classics, it arrived today and I put it on. Much better, now I have a textured wheel and I can't see my turn signal switch anymore.
This is the wheel I took out today, the wheel is for a '67-'69 with my '70 center put on it.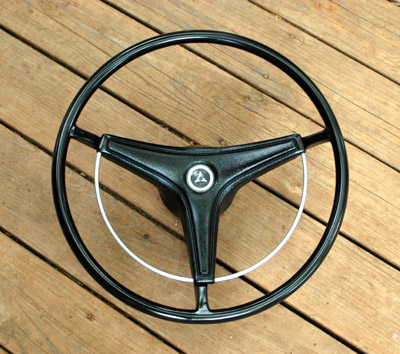 This is the correct wheel which I installed today also.
I'll keep working on my windshield trim too, it is getting close.
Posted in 2004-present | RESTORATION | Reassembly | interior | suspension, brakes, tires, and wheels
Comments
This is great, Tolley !! Your car is fantastic !
I need to do this on my car too - the original wheel is cracked...
Beautiful !
And happy new year to you and loved ones !
Patrick (from France)
Posted by: Patrick at January 8, 2013 08:07 AM
Post a comment