« July 2006: Sheet metal replacement continues | Main | Restoring the grille »
August 20, 2006
August 2006: Steering wheel, seats, and air cleaner restored
This has been an inspiring and productive month for my Charger project. Through God's grace, some good eBay fortune, and the generosity of several friends, my air cleaner, steering wheel, and seats are all restored and ready to be packed away awaiting their turn going back into my Charger as I reassemble it.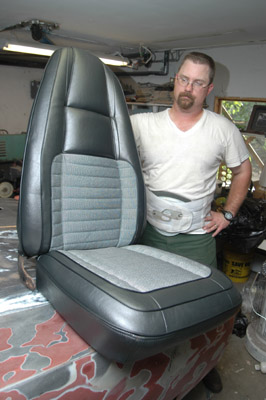 Here I am, posing proudly with one of my newly-restored front seats. The story of how these came out so nicely is really rather amazing and has had me praising the Lord for several days now. Earlier this year, I purchased a nice set of seat covers for my car in charcoal vinyl with salt-and-pepper cloth inserts. Then just a couple of weeks ago I happened to see one day in our very small town a 1969 Roadrunner in primer on a tow-dolly in front of our local greasy spoon burger joint. We parked my wife's 1972 Dart next to it, and I proceeded to look around the car hoping to attract the attention of the owner so I could talk to him. When he came out, I realized I had met him a couple of years before at the DMV, and we had promised to contact each other and never did. He told me the sad news: he was moving away in about three weeks. After a visit to his house and some lengthy Mopar-infused conversation, he told me he was an upholsterer by trade and had specialized in Mopars for 35 years. A short time later this fellow Mopar enthusiast decided to do a tremendous favor for me. For a very small fee, not even enough to cover materials really, he made time in his busy packing schedule to completely redo my seats, stripping them down to the frames, rebuilding the seat foams where needed, and covering them with my seat covers. The final result was stunning to say the least, and these pictures do not do them justice. Thank you Larry!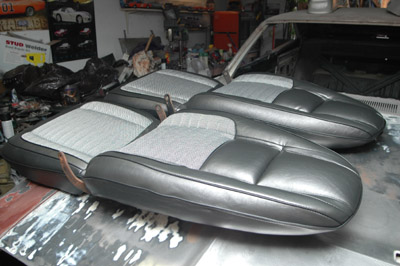 Here are both bucket seats, which will soon be put in storage. Before that, I will refinish the hinge covers and seat tracks and have them ready for eventual installation, the same time as the seats.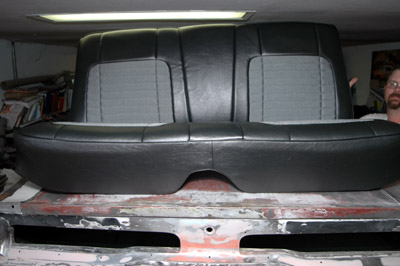 After so many years of seeing my poor, neglected, cracked, mouse-eaten, duct-taped, sometimes-covered-usually-not backseat, I have to pinch myself when I look at this perfect restoration to perhaps better-than-new condition. This really motivates me to get that car painted so I can start putting it together!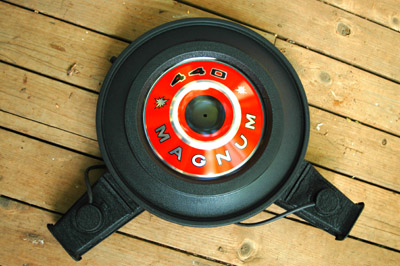 This air cleaner is a piece of the puzzle I have been in search of for a long time. After searching and searching eBay for years, being constantly disappointed by the high prices these air cleaner assemblies go for, I happened upon one that had been described incorrectly as a Chevy air cleaner. I could tell from the photos that indeed it was the exact Mopar housing I needed. Thanks to the error of the person listing the item I was able to get it for about 1/3 the going Mopar-air-cleaner rate. I guess the Chevy folks knew it wasn't theirs and the Mopar guys hadn't found it. The housing was perfectly straight. After cleaning it, I stripped the original remaining wrinkle finish, which was mostly gone anyhow, and then recoated the entire assembly with a proper coat of Krylon wrinkle paint. I purchased the pie-pan also on eBay, and it is an original NOS, which I bought for less than the price of many of the more commonly available reproduction pie-pans. This has been safely packed up in a padded box and will be stored until needed later on in the restoration of my Charger.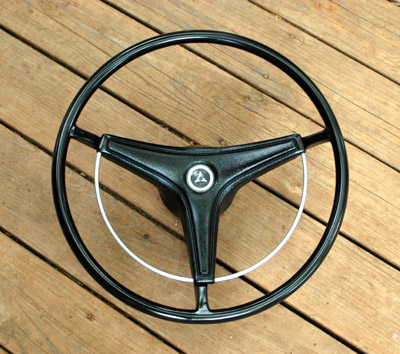 It took the generosity of a couple of friends to bring this steering wheel together for my car. The wheel itself came from my longtime friend James, and the wheel center, a 1970-only item, came from my friend Jude, a fellow Charger enthusiast. So for the cost of a little elbow grease and some vinyl dye for the wheel center, I now have a crack-free very original-looking steering wheel to go with the rest of my new interior stuff.
--------
Posted in 2004-present | RESTORATION | engine | interior
Comments
Post a comment