« 360-degree view | Main | The Return of the Wizard »
June 23, 2007
Steering column restored
One of the things I've looked forward to for a long time was the disassembly, thorough cleaning, and reassembly of my steering column components. Many of these were sandblasted, as noted in a previous entry. I also used a brand-new ignition switch and a brand-new ignition lock cylinder and keys (keyed to match the new door locks I bought). My turn-signal switch is a used one, but it is not burned, it's in good shape, and it still has the automatic cancelling tabs intact.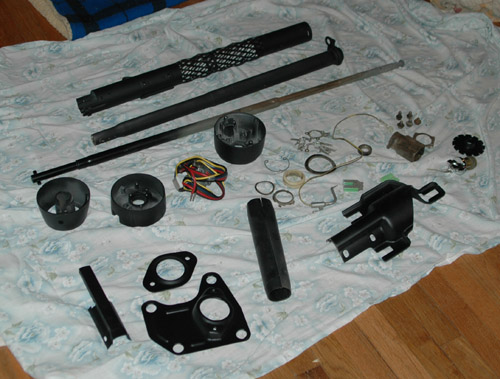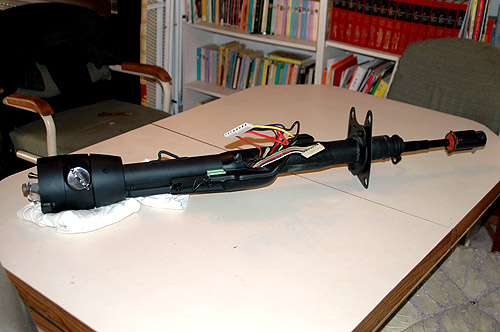 Now that it has been restored and each component has been tested, I will package this away, waiting for that wonderful day when my car has been painted and reassembly is underway.
Posted in 2004-present | RESTORATION | interior | wiring
Comments
Dude,
I'm struggling. How do I get the spring and spring bracket assembly out of the top end of the coupling that attaches to the steering box?
There's a little tit of steel on the I.D. of the coupling that coupling that I can't get past with the spring asswmbly.
Did you grind it off?
P;ease E-mail me.
Thanks,
Dan
Posted by: Dan at June 17, 2008 07:45 PM
Hey Tolley, rite there on your column you have 3 connectors, ignition, turn signal and whats the 3 one called and what does it do? There's one of my problems with the new harness. Thanks for the information and I love the detail of your Charger.
Posted by: Jerry Gaither at March 20, 2012 12:03 AM
Hello,
Restoring a 70 Super Bee 4 spd car .....steering column upper hub is stuck on shaft. Trying to replace ignition switch, tumbler , turnsignal switch and key in buzzer switch. Snap ring removed, penetrating fluid applied. Did you have any issues removing your hub and if so, what worked for you in accomplishing disassmembly?
Posted by: Rob at August 29, 2012 06:04 PM
Post a comment