« Spring 2006: Seeing Results | Main | June 2006: Body coming back together »
June 07, 2006
"Sanding Party"
I have been home from work for almost a month with a couple of herniated disks in my lower back.
My wife, sensing that I was rather frustrated at not making my usual amount of progress preparing my car, did something really nice. She organized my two kids and asked for instructions and safety equipment; then they set to work continuing the sanding work on my car!
My daughter is 6, my son is 10 and he helps me regularly, but twice now in these last two weeks the whole crew cheerfully assembled in the garage for what they call a "sanding Daddy's Charger party".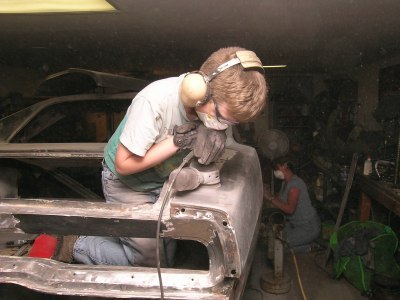 My 10-year-old son taking old paint off of the passenger rear quarter. He generally has a lot of fun helping me, and always learns quite a bit. It is wonderful to be able to share this with him. By the time we go to do his car, he'll be a pro.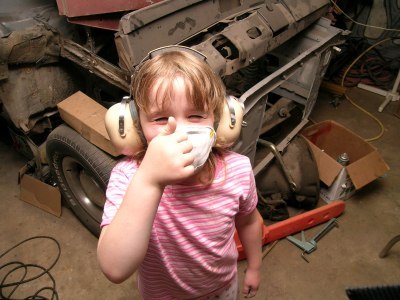 My daughter Claire is always enthusiastic about lending her dad a hand. Her trademark "thumbs-up" gesture says it all.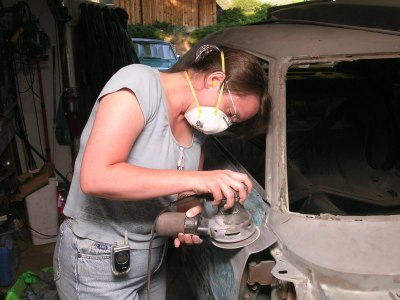 Thanks to my lovely wife Rachel, not only for her hard work on the car and in our home, but for sensing my discouragement at being injured and rallying the troops to keep my restoration moving forward. It has been very fun for both of us to see my wife becoming more and more interested in not only my car's restoration, but in her appreciation of Mopars in general.
--------
Posted in 2004-present | RESTORATION | sanding
Comments
Post a comment