« Sandblasting: setup | Main | Interesting historical find »
May 20, 2005
Sandblasting: results
I only sandblasted the sturdy, mostly-non-exterior parts of the car. My goal was to remove any rust, old paint, grease, oil, etc., and have a nice surface ready for primer and a good coat of Eastwood's rust encapsulator, where needed. More delicate exterior sheet metal is being stripped of its layers of paint, primer, and filler by chemical stripper and/or lots of power- and hand-sanding. The hand-sanding is where my kids "get" to help a lot (they really do enjoy it).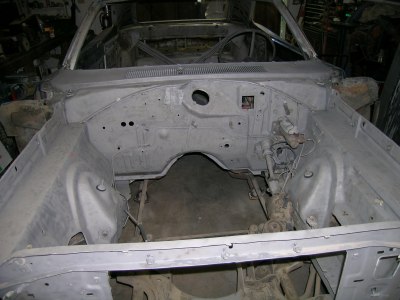 All blasted and clean, the engine compartment now looks so nice, I can just imagine the layers of glossy paint that will one day adorn it.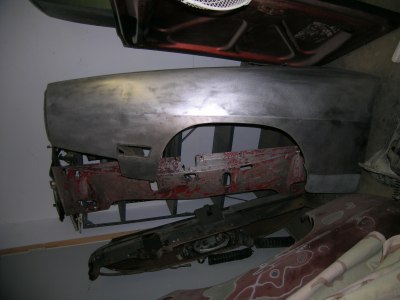 Several treatments with chemical stripper and a few hours of sanding have got my driver's side fender down to its original shiny self. After I smooth a couple of dings and installing a steel rust-repair panel for the area behind the tire, this fender will be primed with etching primer, awaiting the day of final painting.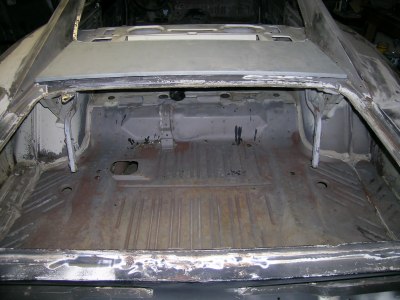 My trunk was remarkably solid, and will not need replacement. A couple of minor pinholes will be welded up before the trunk floor is treated with Eastwood's Rust Encapsulator and preventative treatment.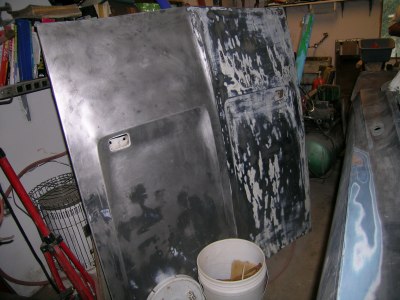 The hood had an amazing number of layers of finish on it, but after many rounds with the stripper, and much sanding, the bare metal is finally showing itself.


The floorpan
--------
Posted in 2004-present | RESTORATION | sandblasting
Comments
I didn't know sandblasting could be so effective. There are a few things that I need to get sandblasted. If possible, I'd like to actually buy one and keep it in my shop. My brother would probably use it all the time.
Posted by: Caleb Hart at March 17, 2015 12:29 PM
Post a comment