« view from above, March 2002 | Main | Engine coming out »
April 10, 2004
THE BEGINNING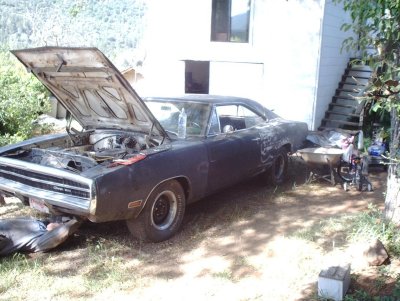 They say the journey of a thousand miles begins with a single step. And so the restoration of my car began with the disconnection of the transmission cooler lines. Within a couple of hours, as the upcoming pictures will show, the 440 engine and 727 transmission were safely out of the car. This was in April of 2004.
--------
Posted in 2004-present | RESTORATION | disassembly
Comments
so cool I am restoring a 70 charger 500 E5 red with black top.. your photos look just like mine..
so cool and GOD Bless
Jeremy Reiley
RIO SAFARI CO.
jermreiley@hotmail.com
Posted by: jeremy reiley at April 15, 2011 08:46 PM
thats an awsome resto...:) were did u buy the sound detana that sits behind the dash and heater box would love to find it for my 1968 rt charger...

Posted by: james at August 28, 2011 04:57 AM
Post a comment