I have owned many Mopars in the past, including a 1965 Polara 4dr with a 383, a 1966 Polara 4dr with a 383, a 1972 D100 2wd long-bed pickup with a 318, and a 1964 Plymouth Barracuda with a 273. My very first car was the '65 Polara mentioned above. I enjoyed that car and it was tough enough to survive my learning many of my first automotive maintenance lessons on it. Since then, I have preferred and promoted classic MoPars of every stripe everywhere I've gone.
With my first car and in the early days of my Charger, I held a fairly uniform appreciation of all American-made muscle-car era automobiles. I found that many of the GM and blue-oval devotees received my praise of their vehicles but had nothing but uninformed condemnation for my own cars. I found this to be true even when their cars could not beat mine in a race. Later on, I met other Mopar owners and found many of them had had the same experiences. It is with these people that I have enjoyed the camaraderie and pride of owning Mopar vehicles over the years.
On this page I will feature other Mopars currently in our family's fleet.
---
This is my wife's 1972 Dodge Dart Swinger. It has a new 360 2bbl engine and it runs like a top. We
love
this car, my wife especially. We bought it in the summer of 2006 from its original owner, a sweet little lady (really) who had kept every scrap of paperwork pertaining to the car all the way back to her original dealership purchase receipt, and who had taken the car in every six months for a checkup or whenever it needed it, whichever was oftener. Other than the new 360, a paint job and new vinyl top in 2004, this car is completely original, and it's virtually immaculate inside and out. We have the original 318 in storage, but after 35 years of service it finally needed to be replaced or rebuilt. This car gets a great deal of well-deserved attention wherever we go in it.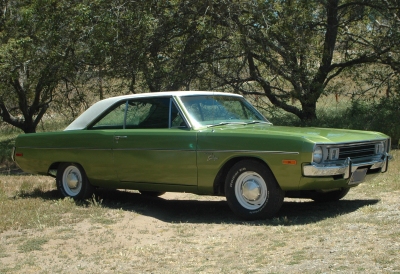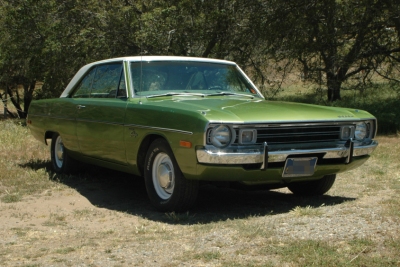 ---
In 2004, I started looking for an economical-to-drive cool-looking older Mopar for regular transportation. I am quite sure we scored a good deal on this 1969 Dodge Dart Western Special. The car is very solid, and needs only a few cosmetic finishing touches. Even in its current unrestored state, this clean, original car still gets us a lot of compliments. Powered by what I believe to be its original 225 CID slant-six, backed up by a 3-speed manual column-shifted transmission, it does very well on gas and doesn't embarrass me going up our local hills. Over the next couple of years, I hope to redo the exterior of the car in its original Q5 Bright Turquoise Metallic paint, with a new vinyl top, and maybe a black tail stripe.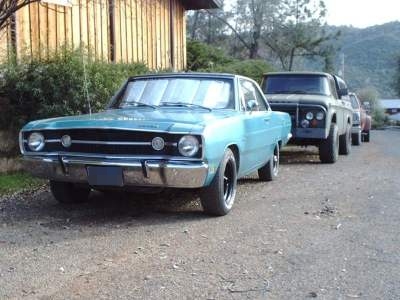 One of the few obvious non-original parts of our car is the grill, which is from a '68 Dart. I actually like the '68 grill better than the '69; however, when I find a good clean '69 grill I'll swap it out just to be correct.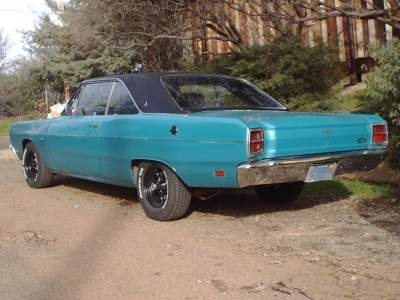 One of the best aesthetic points of the '67-'69 Darts, for me, has always been the rear view, especially the tail lights. I've always thought of this type of arrangement as a miniature Road Runner.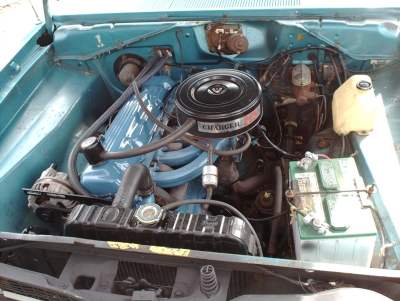 Under the hood, the much-fabled 225 slant six. For economy and longevity, you just can't beat this engine. Many people who see this car ask me when I'm going to swap in some monster V-8; the answer is always the same: hopefully never. I am really enjoying having a classic we can afford to drive, even in these times of exhorbitant gas prices.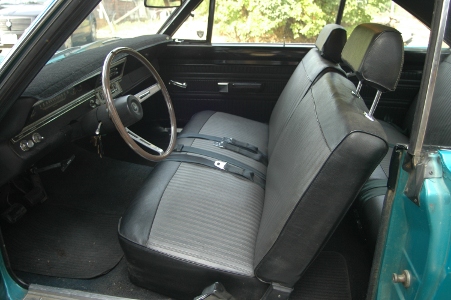 The interior of this car is one of its most stunning attributes. Original, as near as we can tell, the dash pad is flawless. Everything in the car works. So far, it doesn't leak water inside.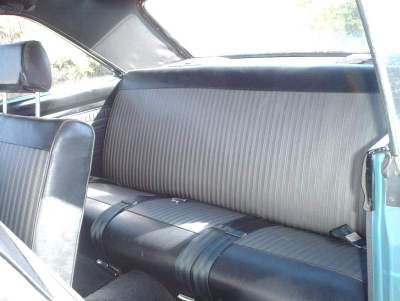 One of the interesting things to me about the interior of this car, besides its wonderful condition, is the two-tone upholstery, which may be standard on the Western Special Darts. I have the original broadcast sheet and verified that this car is a Western Special, and everything is original, near as I can tell. I have seen other Western Specials with two-tone seats in this color combination, and a tan/beige combination. This two-tone look is a big plus for me.
---


In 2003, I was able to acquire this complete, running, driving 1967 Plymouth Satellite 2dr HT. It has a 318 4bbl which runs quite well. The interior has bucket seats and an automatic console shift. My son (who was seven years old at the time) is the owner of this car. It is my plan when my Charger is done for the two of us to begin restoration of his Satellite together.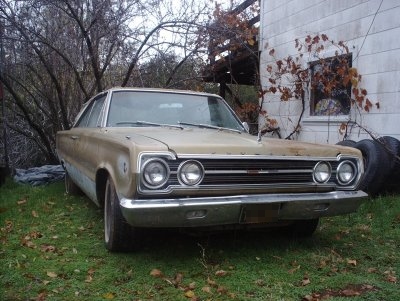 I have long liked the look of these cars, and while this one needs some body work, at $250 complete and running, I couldn't pass up the deal.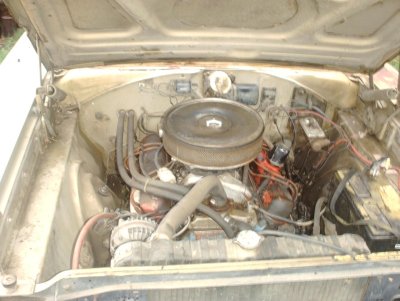 The paperwork that came with the car indicates that this 318 should be the original engine and was overhauled a number of years ago, which could explain why it runs so well. The engine has an after-market aluminum 4bbl intake and an Edelbrock (Carter AFB) carburetor. I have a 1967 383 4bbl engine from a '67 B-body that I'd like to transfer into this car at some point. We'll see what happens down the road.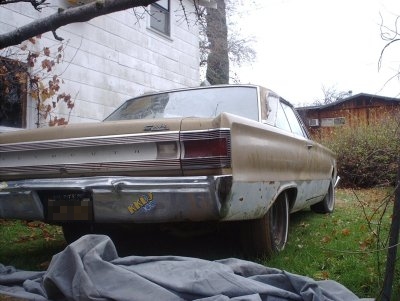 This rear view of the car shows that some tail light lenses and probably a replacement rear bumper will be in order one day. Later, when I have an interior picture to post, you will see that the interior consists of white bucket seats and door panels, with a black dash pad, console, and carpet. The interior will need to be redone, but is complete and in much better shape than my Charger's was when I got it. I look forward to doing this with my son one day soon.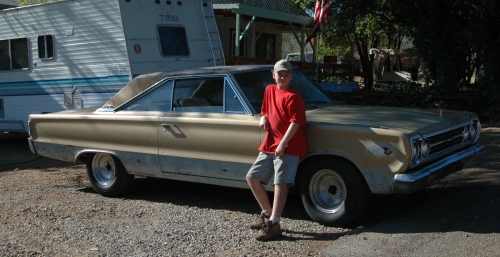 This picture was taken in September 2007, moving day for the Satellite. My son, now eleven, was really excited to get to start and drive his car around. We really like the look of the car with the aluminum wheels. It had been sitting for many years, and mice had chewed through several of the spark-plug wires. I had a good used set I had saved from a recent tune-up on my wife's Dart. I gave my son my Chilton manual, bought when I was eighteen, and the plug wires, told him to go one at a time and to put the plug wires on the cap where they belonged. He was delighted when it fired up and ran beautifully, after dumping some fresh gas in it.
---


The workhorses of my Mopar fleet are my two trucks: a 1975 D300 club-cab dually and a 1963 D100 converted to 4wd by my friend and myself in 1999.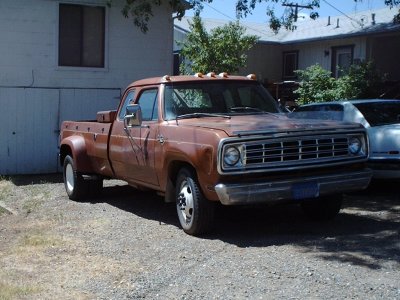 This is my 1975 D300 club-cab dually, post-overhaul. I got this truck from a friend who told me that all it needed was a new transmission. However, there were many problems with the truck, including the fact that the original 360 4bbl engine had a severely scored crankshaft. For a brief time I swapped in a 318 engine, but found this unsuitable for the sort of towing I was interested in doing. A donor truck was located (a '77 D200), from which all of the big-block specific parts were obtained. A 440 conversion was next on the list and now this truck is reliable and tough.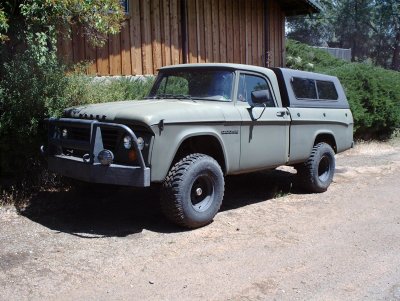 The story of my 1963 D100 probably warrants its own webpage. My buddy and I completely changed the nature and purpose of this vehicle. It started out as a D100 SWB 6-cyl 4spd with manual steering, 2wd, and manual drum brakes all the way around. Over the course of 18 months, we transformed it into what you see now: a 383 2bbl, 727 auto, 1984 Ramcharger power disc brakes up front, on a Dana 44 front end with Warn manual hubs, an MP205 divorced transfer case, an 8 3/4 rear end with Sure-grip, and 3:55 gears all the way around. The steering column with the automatic shifter and floor pan are from a 1969 D200. The front and rear end transfer case and power steering are from a 1974 1/2-ton Power Wagon. The brake booster and master cylinder assembly are from a 1972 Chrysler New Yorker. The front and rear bumpers are custom-made by my friend and myself.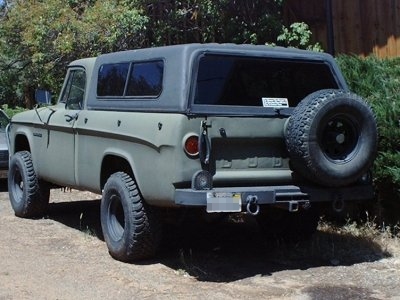 In the front of the bed, up against the cab, is the rear seat of a '69 Chrysler 9-passenger wagon with seat belts, which allows the kids a place to ride. The truck also has a Rough Country 2-inch lift, American Racing 15x10 spoke wheels, and BFG 33x12.50x15 mud terrain T/A radials. As I continue to work out little bugs, this truck continues to turn heads and impress me more and more.
---